Nyege Nyege Festival is back this year and all roads, air routes and shipways point to Itanda Falls in Jinja, Uganda.
Since it's inception in 2014, Nyege Nyege has provided a great platform for many artistes to launch their careers on. Speaking to The East African, Nyege Nyege co-director Derek Debru says "we invite over 40 festival programmers and bookers from around the world to guarantee a level of opportunity other events cannot offer." It has been 2 years since the last festival happened and fans cannot wait for this year's festival, slated to be held between September 15 – 18. The festival last went down in 2019 with the Covid-19 pandemic forcing it's cancellation in 2020 and 2021.
Nyege Nyege is unarguably the biggest festival in East Africa and undoubtedly one of the biggest in the world. The festival averages more than 9000 attendees from all over the world. The line up at Nyege Nyege is usually jam-packed. The official lineup of performers who will be at this year's Nyege Nyege festival is still yet to be released.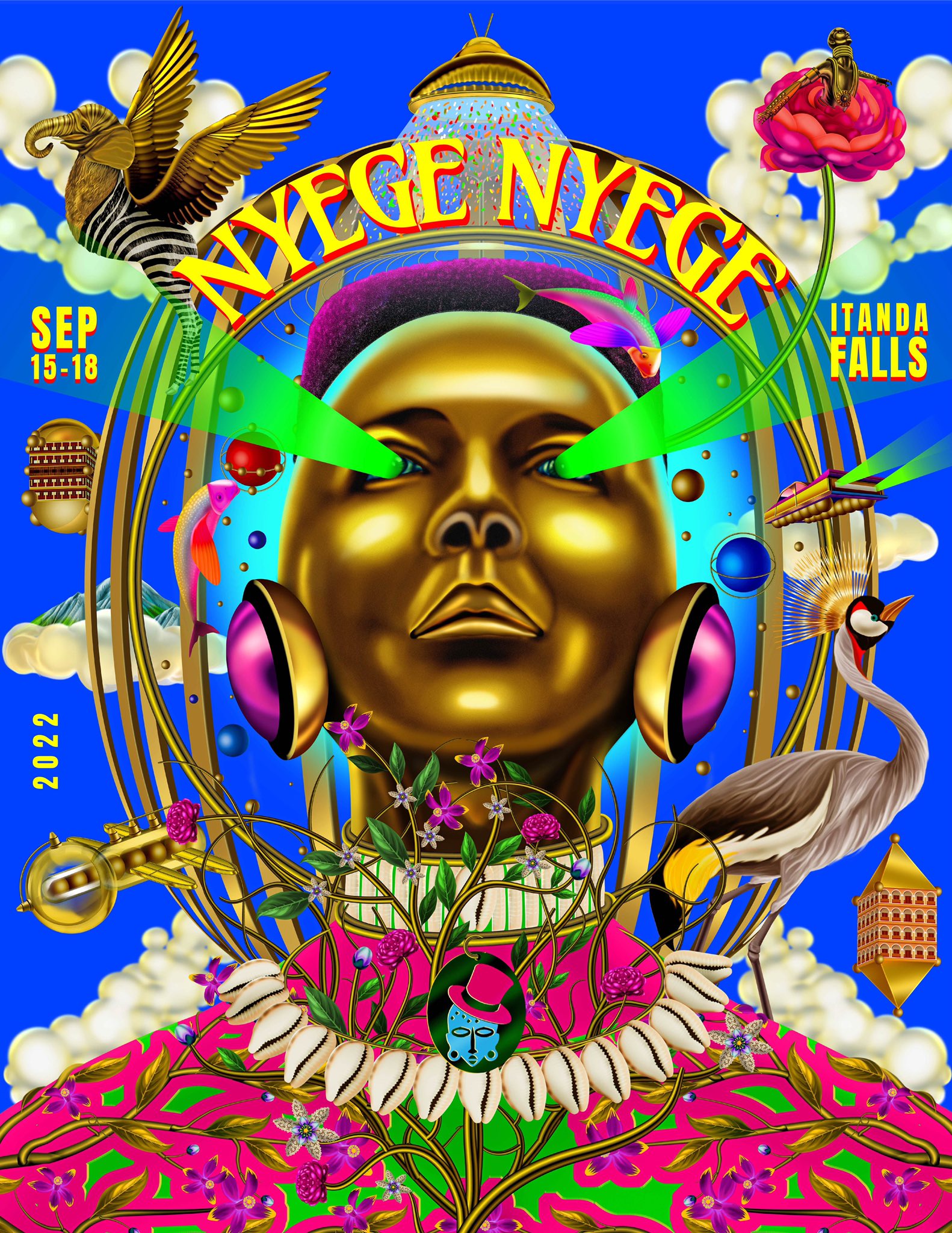 2019 Festival
In 2019, Nyege Nyege festival took place at Nile Discovery Beach in Jinja, Uganda. It featured more than 300 performers from over 30 countries though the bulk of performers were from Uganda. Authentically Plastic, Catu Diosis, The Cranes, Don Zilla, DTM Funk, DJ Kampire, Afrorack, Swordman Kitala, AO the Walker, Faizal Mostrixx, MoRoots, Nakibembe Xylophone Troupe, Ocen, Ras Brown, Fonkodelics Arkestra, Kalalu Traditional Troupe, and Decay aka Cardi Monáe and Big Trill, the Ugandan singer known for his hit single 'Parte After Parte'.
Other acts in the 2019 edition were Kenyan electronic DJ Slikback and Rinse FM's Josey Rebelle. Discwoman's Shyboi, and Detroit record producer and DJ Juan Atkins were also in attendance. Repping Tanzania were Jay Mitta, Bamba Pana & Makaveli, Nyege Nyege Label affiliates Duke & MCZO, Nana, Rehema Tajira and Sisso. From Ethiopia there was Hibotep, Lady Ha$h and Armaghedion.
Nyege Nyege 2022
This year, Nyege Nyege is doubling down on collaboration. The 2022 festival will involve collectives across Africa, online radios and visual artists.
Tickets for the 2022 festival can be purchased on the Nyege Nyege Website.
2022 Artist Lineup
There will be more than 150 artists from across the world in the lineup at this year's Nyege Nyege Festival. The full lineup of performers is listed below:
| | | |
| --- | --- | --- |
| ABDUL LATEEF (CA) | ILLEXXANDRA (USA) | NICO ADOMAKO (GH) |
| ADOMAA (GH) | JAKO MARON (RE) | NILOTIKA (UG) |
| ALIDEKKI BRIAN (UG) | JANZI BAND (UG) | NINOS DU BRASIL (IT) |
| DJ ALISHA (UG) | JAY MITTA (TZ) | NSASI (UG) |
| ANITA MOBANGO – NEW MAMAN (CN) | JESSIKA EKOMANE (CM) | ODAI MASRI (PS) |
| ARSENAL MIKEBE (UG) | JOKKOO COLLECTIVE (ES) | OPOKU (ES) |
| ASHER (TZ) | JULIANA HUXTABLE (US) | OTIM ALPHA (UG) |
| ASTAN MEYER (FR) | K8 (JP) / KABEAUSHÉ (KE) | OYISSE (CG) |
| ASSYOUTI (EG) | KADILIDA (TZ) | DJ PAYPAL (US) |
| AUNTY RAYZOR (NG) | DJ KAMPIRE (UG) | PALLASO (UG) |
| AUTHENTICALLY PLASTIC (UG) | KANEDA (KE) | PATHY KITETE – HOMME MIROIR (CN) |
| ANTI VAIRAS (TZ) | ΣEITO (JP) | PHATSTOKI (ZA) |
| AWEKO BRIAN (UG) | KIDENE & DJ DUSKO (TZ) | PHELIMUNCASI (ZA) |
| B4MBA (ES) | KID GRINGO (DE) | PÖ (GH/ FR) |
| BABA SY (ES) | KILOMBOSHI PAPE NOIRE – HOMME CAOUTCHOUC (CN) | QUEST?ONMARQ (USA) |
| BAMBA PANA & MAKAVELLI (TZ) | KINACT COLLECTIF (CD) | RAS BROWN (UG) |
| BATUKIZER (BR) | KINGDOM CHOIR (CD) | RATIGAN ERA (UG) |
| BENZEMA (KE) | KUJO (LB) / KZLK (EG) | RUDE BOYZ (ZA) |
| BINGHI (RW) | LADY HASH (ET) | R3IGNDROPS (UG) |
| BLACK SISTARZ (UG) | LEON DUNCAN (KE) | REY SAPIENZ & THE CONGO TECHNO ENSEMBLE (CG) |
| BOUTROSS (KE) | LITHIUM BEATS (PT) | ROSIE PARADE (ZA) |
| BOYOKA BESTAGUY – COCOMAN (CN) | LOW JACK (FR) / MR LU (KE) | SARAH NDELE (CG) |
| BYG BEN SUKUYA (UG) | DJ MAGNUM (KE) | SELECTOR JAY (UG) |
| CATU DIOSIS (UG) | MAKOSSIRI (KE) | SHIVAY LA MULTIPLE (CD) |
| CHIEF BEKA AND TAK SHOW (TZ) | MAOUPA MAZZOCCHETTI (BE) | DJ SIQ (KE) |
| CINDY SANYU (UG) | MARABOUTAGE (FR) | SISSO & MAIKO (TZ) |
| CRAZYMIND (UG) | DJ MARCELLE (NL) | DJ SKOTHANE (ZA) |
| CHRISMAN (CD) | MASAKA MASAKA (UG) | SOCKETHEAD (UK) |
| CLARA! (BE) | MAVEEN (UG) | SOUNGOU (CM) |
| DE SCHUURMAN (NL) | DJ MAWINCH (KE) | SPIRITUS BONGONDA – BOKOKO (CN) |
| DEBMASTER (FR) | MBODJ (ES) | SWAK CATALOG (ZA) |
| DECAY (UG) | MCZO & DUKE (TZ) | SYLVIA SARU (KE) |
| DEMONIC GLARE (UK) | MENZI (ZA) | TASH LC (UK) |
| DJ DIAKI (ML) | MESTRE DESCONHECIDO (PT) | TITI BAKORTA & ENSEMBLE (CD) |
| DOMADANA KADODI DRUMMERS (UG) | MGM (KE) | TNTC (ES) |
| DONGO (TZ) | MIKA OKI (BE) | TYO GQOM (JP) |
| DON ZILLA (UG) | MIMI (AO) | TOM BOOGIZM (UK) |
| DOPE I MEAN (KE) | MISS INESS (TS) | DJ TRAVELLA (TZ) |
| EBRAHIM SOUL"O (UG) | MITOKON (JP) | TRIGGAH (UG) |
| ECKO BAZZ (UG) | MIZIGURUKA (RW) | DJ TUNIX (CM) |
| EDDY EKETE – HOMME CANETTE (CN) | DJ MP3 (ZA) | TURKANA (SS) |
| EKO ROOSEVELT (CM) | DJ MORO (JP) | VINCENT MOON (FR) |
| EX RAY – BOONDOCKS GANG (KE) | MOOKIE (ES) | VINNAU (BR) |
| EXOCE (FR) | MR FABZ (KE) | VIOLAINE LE FUR (FR/ CM) |
| EXTRATERRESTRIAL GOD (NL) | MUNCHI (ND) | MC YALLAH (KE) |
| FALONNE MAMBU – FEMME ÉLECTRIQUE (CN) | MWANZA DUDA – FULUMAN (CN) | YAO BOBBY & SIMON GRAB (TG/CH) |
| FLO (UG) | NAH EETO (KE/UK) | YUNIS (EG) |
| FRA ! (GH) | NAKIBEMBE XYLOPHONE TROUPE (UG) | ZAKENTE (AO/PT) |
| FUMU (UK) | NANA ZAY (TZ) | ZAY (TZ) |
| DJ HANUMAN (KE) | NASELOW WITH PARTY PIPO DANCE CREW (UG) | ZATO (UG) |
| HIBOTEP (SO) | NAVIO (UG) | DJ ZNOBIA (AO) |
| HHY & THE KAMPALA UNIT (UG/SS/PT) | NET GALA (KR) | ZÖE MC PHERSON (IE) |
| | | ZORA SNAKE (CD) |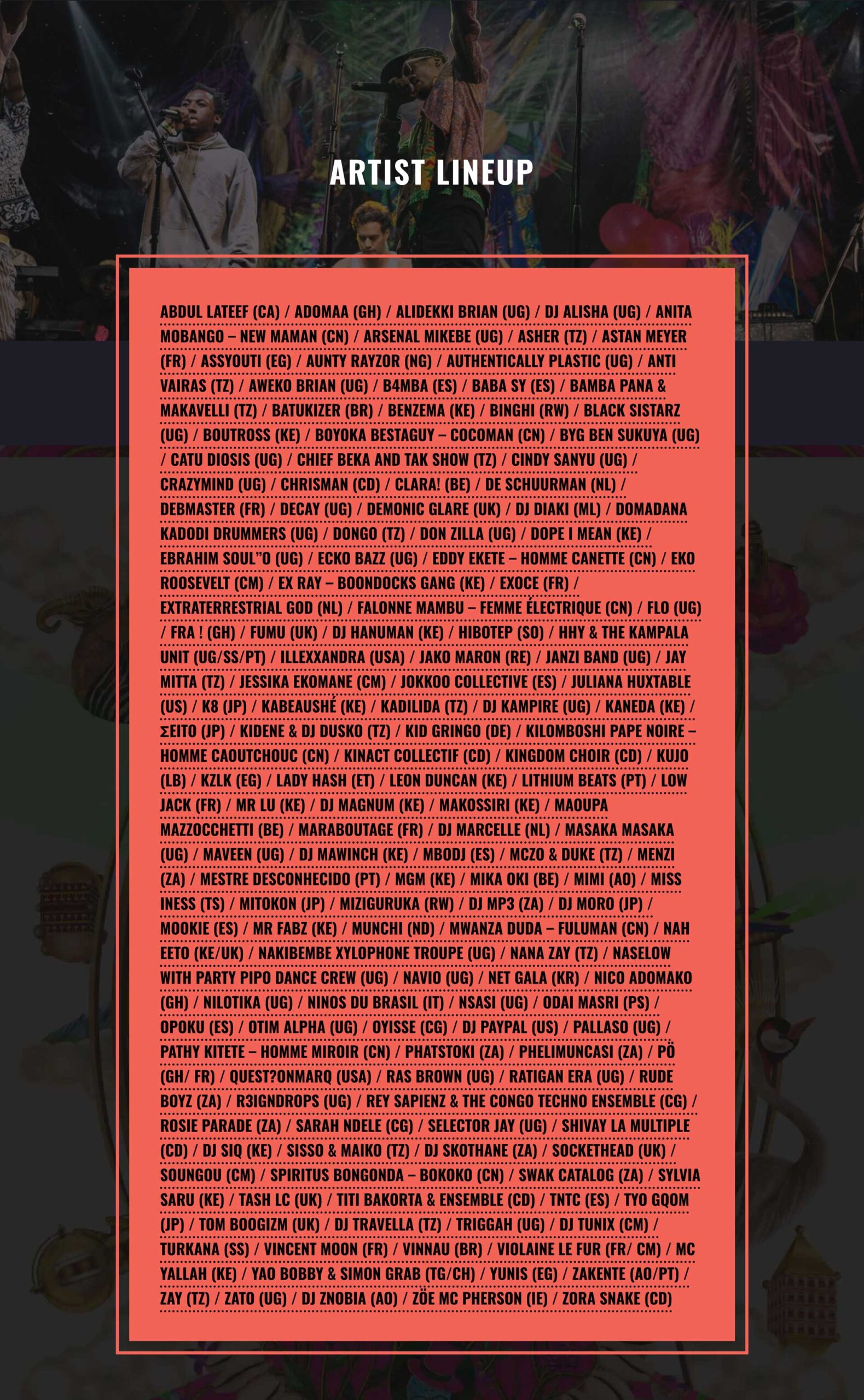 Itanda Falls: A Map of the Venue
Even as the Nyege Nyege 2022 festival fast approaches, you might want to get acquainted with the location. The festival will be held at Itanda Falls in Itanda, Uganda and in light of that, a map showing the locations of various performance stages, parking spots and camp sites is available for all to download.
Route 1 to Itanda Falls
To get to Itanda Falls once you're in Uganda is a 2 and a half hours drive from Kampala. There are two possible routes you can use. The first involves travelling on the A109 Kampala-Jinja Highway, crossing over the new Jinja Nile bridge upto the first Jinja Roundabout (Amber Court roundabout where the Café Java / Shell Petrol Station is located) and taking the 1 st exit onto the Jinja – Bundondo rd direct to Itanda Falls.
Route 2
The other route is directed towards the Kampala-Gayaza Road to Kayunga and then cross the Nile River via the newly constructed Isimba Dam bridge. From there it's a signposted 45 minute drive to Itanda Falls/ Nyege Nyege Festival.
From Jinja
If you're in Jinja, Itanda Falls is only 27km away so if you're travelling by car the trip should take approximately 45 minutes.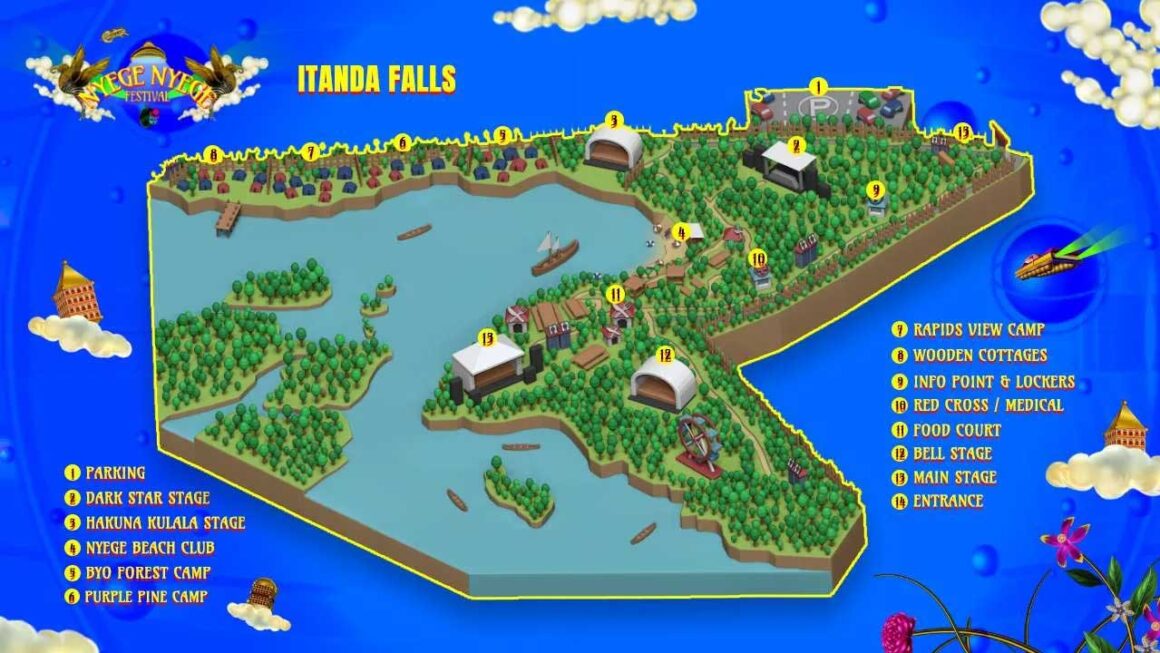 Entry into Uganda for Foreigners
Entry into Uganda is easy as a foreigner. An e-visa can be applied for on the Ugandan Immigration Website. Take note that your visa will taker at least 2 working weeks to be processed so it's best to apply early and avoid the last-minute rush or worse regrets. You will also be required to have undergone a Covid-19 PCR test within 72hrs of departure from your destination. Proof of Covid-19 and Yellow Fever vaccination will also be required.
The Road To Nyege Nyege 2022
But before the main event in September, the Nyege Nyege magic has been taking the party across the world. In May they performed at the Dakar Biennale where Afrorack, Po, Kampire, De Schuurman, Diaki, Foreigner, Binghi, Asna and Mbodj performed. On June 8, Nyege Nyege partnered with Primavera Sounds to take over Club Laut in Barcelona. Perfoming at the sold out show in Spain were Aunty Rayzor, DJ Diaki, Turkana, Duma, Chrisman, Decay, Mbodj, Dj Travella, Authentically Plastic, Otim Alpha, MC Yallah and Debmaster.
In July the Nyege Nyege magic will be headed to Paris with a spectacular line-up planned. Aunty Rayzor, Craymind, Dj Diaki, Don Zilla, Faizal Mostrixx, and many others are gearing up to perform.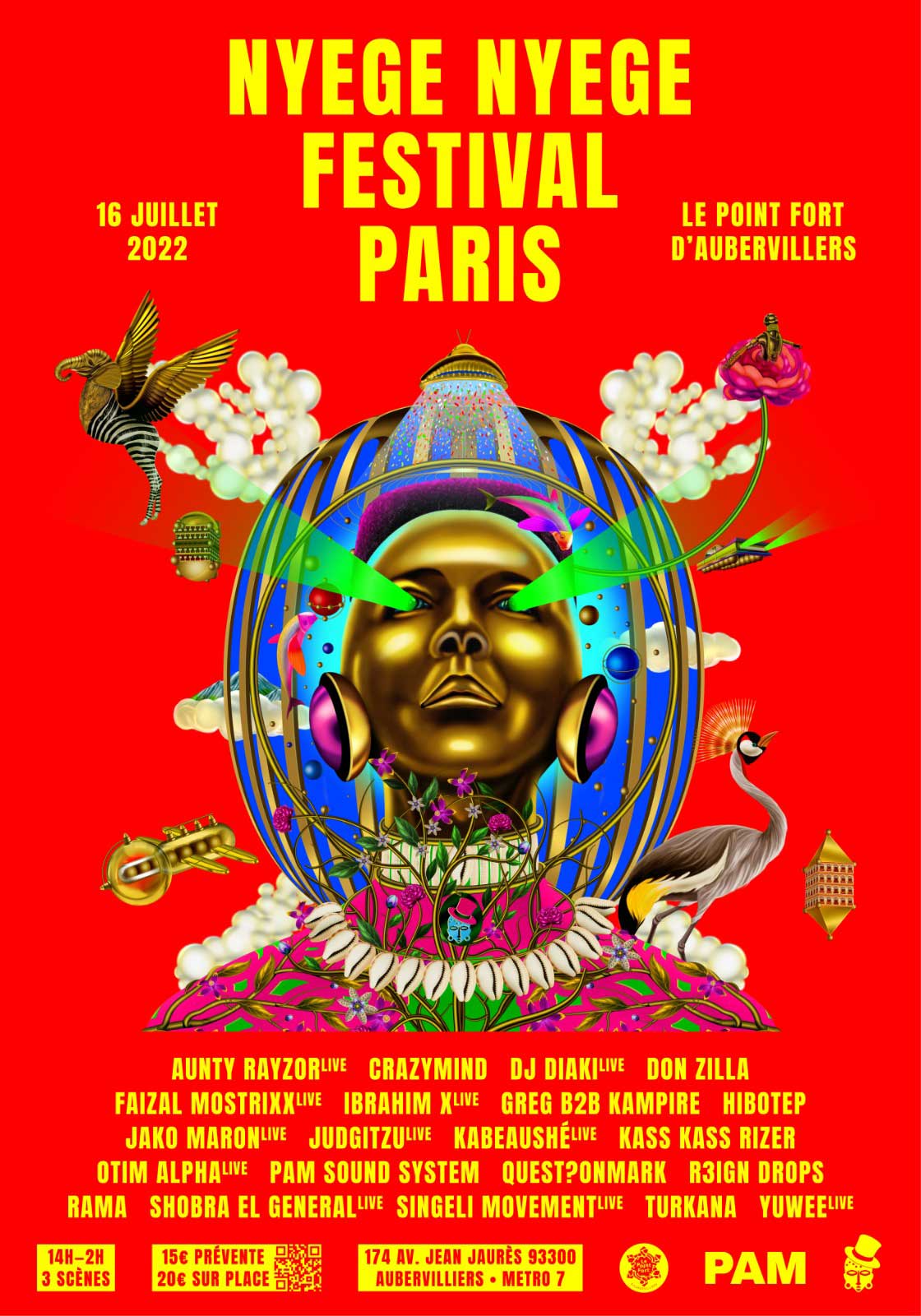 ---
Nyege Nyege is a collective based in Kampala, Uganda that primarily promotes electronic music by African artists. The collective was founded in 2013 by expats Arlen Dilsizian and Derek Debru.
---
Muiruri Beautah is a Head Writer at WAKILISHA and an Art Director at Tessera Communications. He has created award winning work for brands such as Unilever, Diageo, SafeBoda and Safaricom Plc. He lives in Nairobi and in the hearts of children around the world.