At only 18, Eliud Kipchoge claimed his first major victory, winning the 5,000m gold at the 2003 World Athletic Championships. In his entire career, spanning more than 2 decades, he has only lost in two marathons; he finished second at the 2013 Berlin marathon and 8th at the 2020 London marathon, due to a blocked ear. He has won 4 Olympic medals; 5000m bronze at Athens 2014, 5000m silver at Beijing 2008, and marathon gold at Rio 2016 and at Tokyo 2020. He has won the London Marathon four times and the Berlin Marathon three times, with one victory in the Chicago Marathon. Kipchoge did not lose a race between 2014 and 2019.
Patrick Sang
Kipchoge
has benefited from the expertise of his coach
Patrick Sang
, the Olympic steeplechase medalist since he was a teenager. Their partnership dates back to 2002 when Sang began coaching Kipchoge at the Global Sports Management camp in Kaptagat. Kipchoge attests to the value of his long-term partnership with Sang, saying that he gains new insights from every training cycle and race.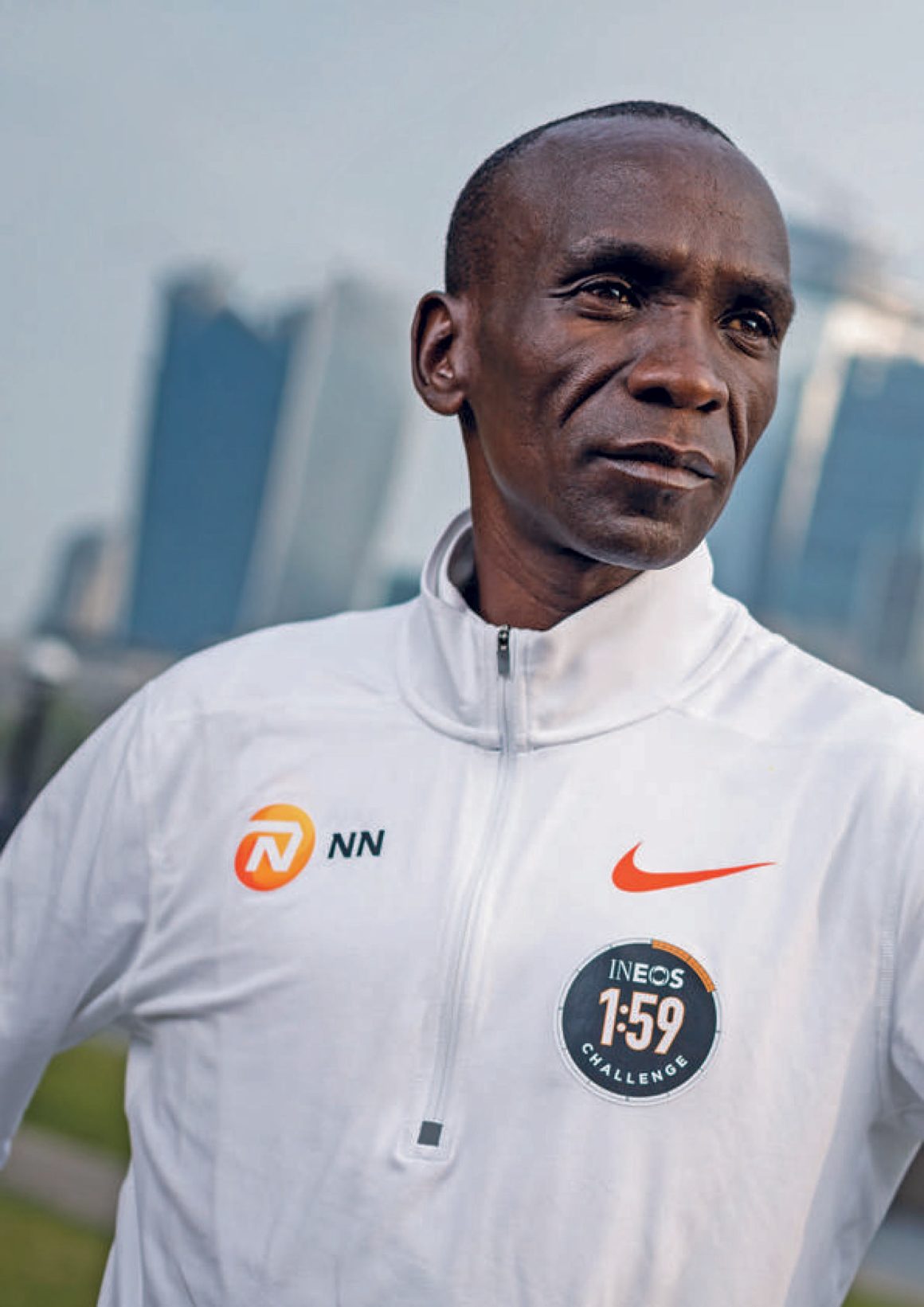 Switching to Road Running
In 2012, Eliud made a tough decision. He decided to switch from the 5000m races and get into marathons. That year he failed to qualify for the London Olympics. It was a huge setback. At the time, he was an accomplished 5,000m runner with 2 Olympic medals to his name. However, he did not relent in his pursuit. He was committed to his decision to switch. He started running half marathons and the next year he set a new course record at his marathon debut in the 2013 Hamburg Marathon. The rest is history, as they say.
When the now 38-year-old double Olympic champion broke the record at the Berlin Marathon in 2018, it was his 4th win in the German city. Kipchoge has run four of the five fastest marathon times in history. First in Berlin (2018) when he ran a time of 2:01:39. In Berlin(2019) Ethiopian Kenenisa Bekele won by running a time of 2:01:41, the second fastest time ever and just two seconds off of the world record set by Eliud Kipchoge on the same course the previous year.
Kipchoge ran the 2019 London Marathon and won with a time of 2:02:37. In 2022, he ran in two marathons and won. First in Tokyo with a time of 2:02:40 then at the Berlin Marathon with a time of 2:01:09, where he slashed 30 seconds from the previous world record he set in 2018.
Running a Marathon in Under 2 Hours
At a press briefing in Nairobi on September 4th, 2019, about a month before flying to Austria for the test of a lifetime, he explained why he was going, "I am going [to Vienna] to inspire a whole generation. To sell the idea that no human is limited. It is not about setting a world record, but about inspiring the human race." On 12th October 2019, Eliud Kipchoge made athletic history when he sprinted through the finish line at the Prater Park in Vienna. Kipchoge clocked a time of 1:59:41 to become the first man in history to run a marathon in under 2 hours. He had set out to show everyone that "No human is limited" and he did.
Speaking to
Athletic Weekly
in 2022, Kipchoge says that moment remains his proudest achievement to date because it has caused a collective mindset shift, not least in himself. Kipchoge is confident that the 2-hour barrier will be broken in a conventional big-city marathon in the future.
Secret to Success
He is known for his single-minded focus and unwavering commitment to his goals. The indomitable Kenyan athlete believes there is nothing complicated about his success as an athlete. He says "Simplicity is a recipe for success, that is what keeps you on the course. I get a real plan – one plan only – and work on it to make sure I achieve it. If I don't achieve it then I go back and set the plan again." He adds, "Any human can go beyond their thoughts but self-belief is crucial."
Away from the tracks, Kipchoge is a highly sought-after sports celebrity and inspiring motivational speaker with insights about running and living. He works as an ambassador for top brands like Nike, Isuzu, and M-Pesa.
The Greatest Of All Time
Kipchoge's name is carved in stone alongside the names of other Kenyan Greats like Paul Tergat, Kenya's first marathon world record holder and the first man to run a marathon in under 2:05:00. Before Eliud, Samuel Wanjiru had set a new record and become Kenya's first Olympic gold medalist in the 2008 Beijing marathon. Wanjiru also won the 2009 London Marathon and the 2010 Chicago Marathon.
Boston 2023
At the
2023 Boston Marathon
which went down on April 17th, Kipchoge came in 6th; a good performance for a new environment. It was the first time he was taking on the Boston course. Evans Chebet, the defending Boston and New York Marathon Champion held on to his Boston title, clocking 2:05:54 at the finish line. Hellen Obiri, 2-time Kenyan Olympic silver medalist won the women's race with a time of 2:21:38. The Kenyan athlete has only raced in one other marathon, the New York Marathon, in which she finished 6th. Foreshadowing for Kipchoge's second attempt at the Boston Marathon? Only time will tell.
Marathon Grand Slam
Kipchoge has previously expressed his interest in running all of the World Marathon Majors; He has conquered London and Berlin. Now that he has made his debut in Boston, New York City, which is in November, might be next. When Kipchoge wins both the Boston and New York City races, his quest for the marathon Grand Slam will have come to a glorious end, solidifying his already G.O.A.T status in the world of sports.
However, Kipchoge has yet to compete in an autumn marathon during an Olympic year. Therefore, if he doesn't participate in the New York City Marathon in 2023, he may not race in any autumn marathons until 2025 at the earliest, when he will be just a few days shy of turning 41 years old. This is not an issue for him.
Focus on Major Races
The Kenyan athlete has expressed his intention to continue racing beyond the 2024 Olympics and into his 40s, focusing on major city marathons instead of specialty races, such as his 2017 and 2019 attempts to break the two-hour barrier for a marathon in non-record-eligible events.
Humility Above All
Even though Kipchoge is widely regarded as the greatest marathon runner of all time, when asked if he sees himself as the best, he humbly deflects the question, suggesting that it is for others to decide. Kipchoge acknowledges that his success is not solely his own, but the result of the hard work and dedication of his support team.
He states, "While I appreciate the sentiments of the people, I understand that success is not achieved alone. It takes a team effort to accomplish great things, and I am grateful for the help and support of those around me." Kipchoge's humility and recognition of his team's contributions to his success is a reflection of his character and adds to the appeal of his status as a sports icon.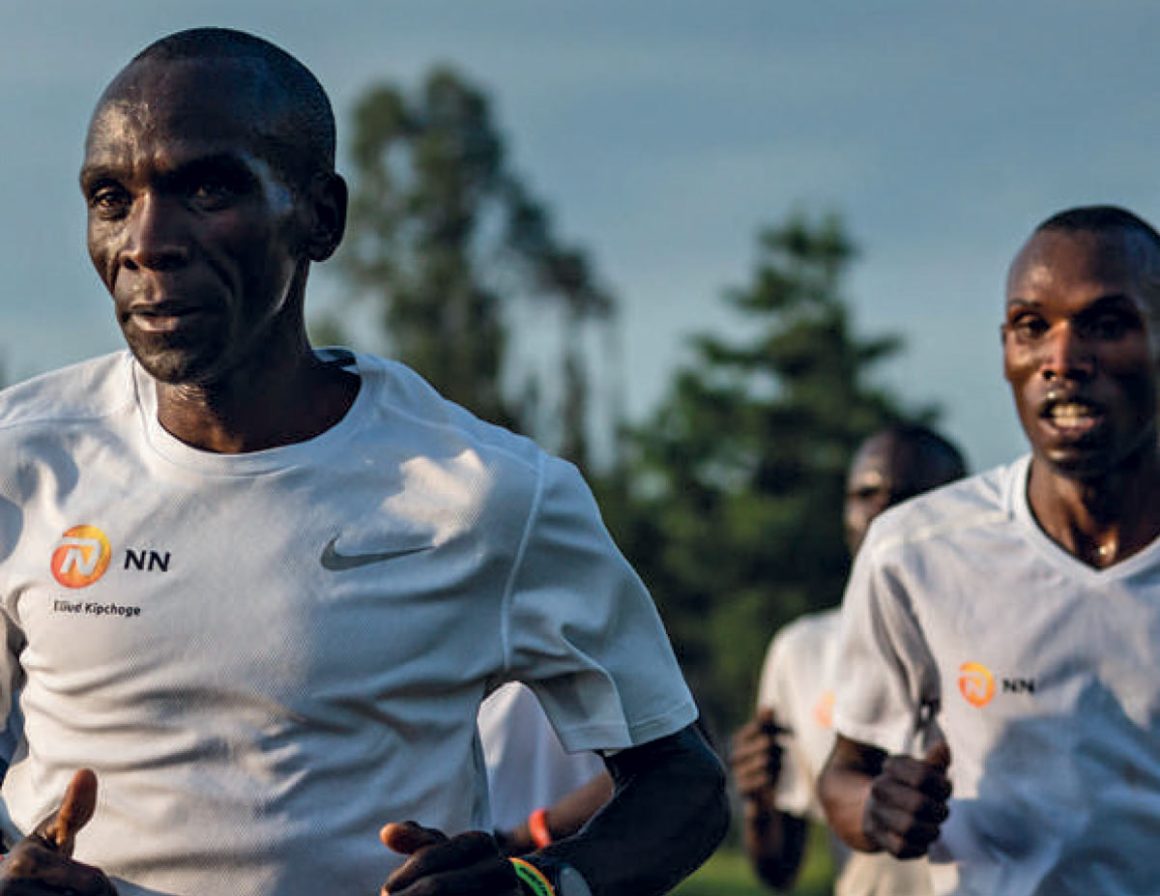 Consistency and Authenticity
Eliud is a man of few words. Literally. When he stood to speak at the celebration of his Berlin Marathon win in 2019, his keynote address took less than 3 minutes. His low-key approach permeates everything he does. While his success on the track is a reflection of his unwavering determination and commitment to excellence, what is equally impressive about Kipchoge is his consistency and authenticity, both on and off the track. He carries this same attitude with him in his personal life, where he lives a simple and grounded lifestyle with his wife and three children; two boys and the youngest, a 15-year-old daughter.
When asked whether he's going to train his children to run professionally as he does, Kipchoge says "The boys are showing that they love running but I will be giving them autonomy to choose the sport they like."
---
Muiruri Beautah is a Head Writer at WAKILISHA and an Art Director at Tessera Communications. He has created award winning work for brands such as Unilever, Diageo, SafeBoda and Safaricom Plc. He lives in Nairobi and in the hearts of children around the world.