On 4th November 2023, thousands gathered At Uhuru Gardens, Nairobi for Solfest Kenya 2023.  This was a concert dubbed as the last dance for Sauti Sol, the Kenyan boy band that has in the last two decades used its repertoire of uniquely Kenyan songs to carve out a place for Kenya in African and global conversations that relate to music culture. Solfest was Sauti Sol's last performance together as a group before the quartet took a break to focus on their solo careers.
Succeeding the concert, a question lingered in the minds of all Kenyan Sauti Sol fans. Everyone wondered who among the four would be the first to release a solo project. Last Friday, this question was finally answered when Bien, the group's Grammy award-winning songwriter and trailblazing vocalist, released his debut solo album 'Alusa Why Are You Topless?'.
Alusa Why Are You Topless? contains sixteen tracks in which Bien wears his heart on his sleeve. He is a bonafide artist, with a bottomless bag of punchlines; an artist that to this day still retains the most noticeable of his artistic imperium, an unequivocal mastery of singing about romance like no other Kenyan artist. This is revealed first from the album's intro, titled 'Legend', which acts as a prelude to what's ahead in the other songs on the album as it reveals the main subject matter of the project to be musings on romance.
 "In 'Lost and Found,' the second track of the album, Bien skillfully navigates the topic of romance with a masterful blend of electronically crafted beats that mimic the resonance of traditional percussion instruments. The song is masterfully produced with hints at a rich vein of synth experimentation, a style running throughout the entire album. The synthesizers employed in this particular track, and throughout the album as a whole, are not mere placeholders but resonations of instruments wielded with intention, adding depth and texture to the music. This energy remains true as we further dive into the project, in 'Ma Cherie', the sixth song and in 'I Want You', the seventh song.. Both 'Ma Cherie' and 'I Want You' , similar to 'Lost and Found', continue with the romantic theme set at the beginning of the album,;   diving into the ins and outs of that intangible thing called love.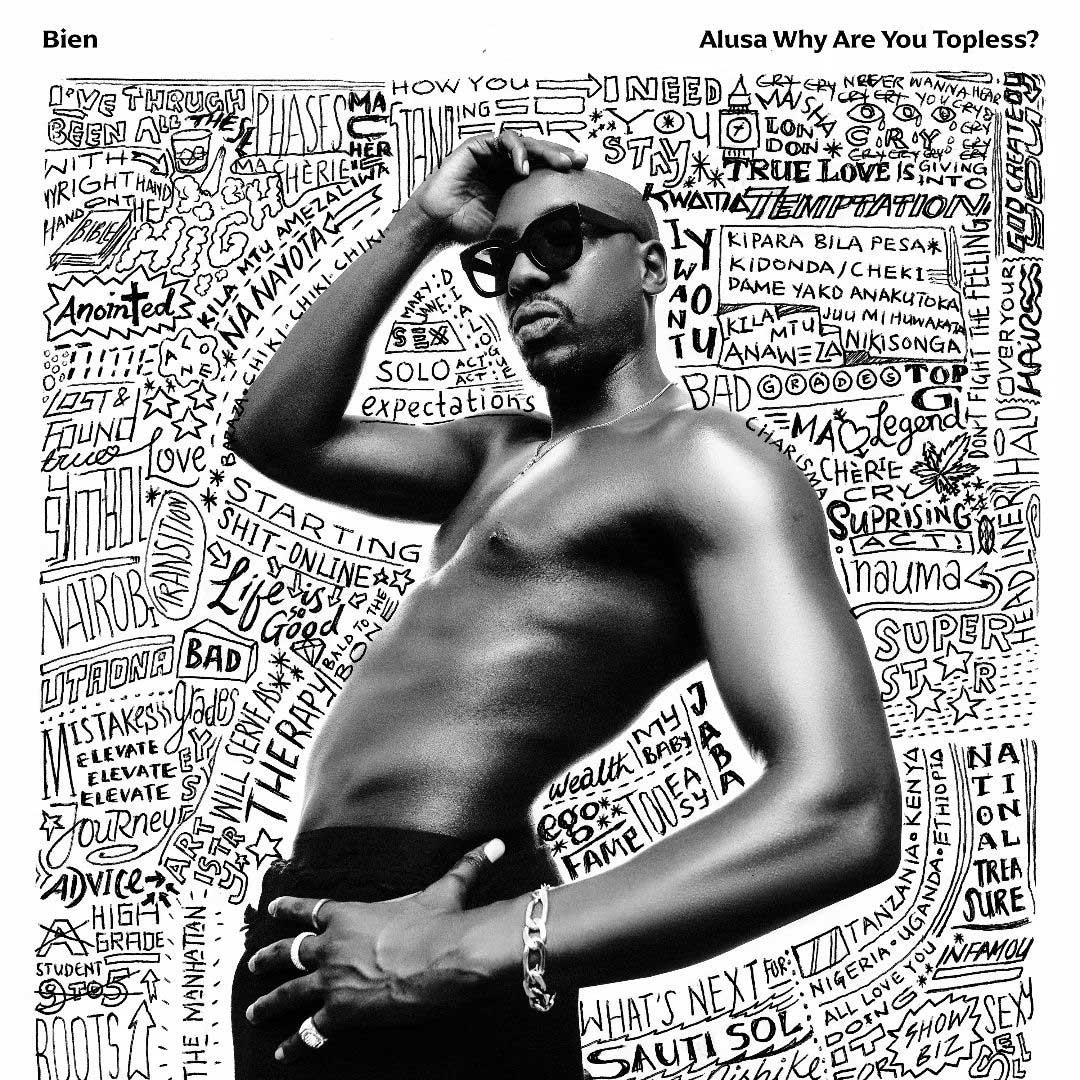 Love
In a different regard, love, the core theme of his album, would be seen as cliché, but in Bien's effortlessly melodic voice, it oddly feels original.  The songs 'True love',  'Too Easy'(featuring DJ Edu) and 'Kwama',  which are the eighth, fourteenth and fifteenth tracks respectively, are rich in detail with Bien juxtaposing Swahili with English to deliver narrative descriptions on various scenarios of intimacy and endearment. 'Kwama' in particular has a memorable hook, with Bien on repeat saying, ' When you find something you love / We kwama nayo / Leo Nakwama Nayo /'. 
In the ninth and tenth tracks, 'Stay' and 'A-Student', respectively, Bien ventures away from romantic lyricism, steering his narrative towards inspirational themes. In 'Stay' Bien uses a collocation of English and Swahili, similar to how he approaches Kwama, and gracefully navigates the complexities of perseverance, offering a compelling reflection on the virtues of patience and determination. In 'A Student' he explores the Kenyan prerogative and err social-phenomenon of "'A' students working for 'B' students, in companies owned by 'C' students." 
Featured Artists
The main attraction to this album though, is in its featured artists. The third track, Sex and Marijuana, features the Nigerian-British rapper Ms Banks who delights Kenyan listeners by using the Swahili catchphrase 'Usikuwe Mjinga'. The fourth track 'My Baby', which features Nigerian songstress Ayra Starr, might be one of the best songs in this album due to the vocal cohesion Ayra and Bien portray. It is perhaps only dwarfed by the thirteenth song, Lifestyle, which features one-third of the Wakadinali trio, Scar Mkadinali. The track is full of catchy punchlines from both artist, with Scar Mkadinali's witty yet metaphorical verse making a case for it as one of the best Kenyan songs released in 2023. Another feature is with Nigerian Neo-soul singer, songwriter and record producer, Tay Iwar, in 'Time Alone' the twelve song, where Tay and Bien showcase an artistic chemistry rare for two artists from different parts of the continent.
In Alusa Why Are You Topless? Bien also includes slow-burning songs showcasing his understated ability to shift to  downtempo R&B songs from fast-paced, upbeat party songs, and still retain his artistic je ne sais quoi. The fifth song, 'Chikwere'  is an effervescent ballad, similar to the eleventh song 'Time'. Both songs convey distinctly Bien's holistic and incandescent vocals in this album. 
The outro track of the album, Anointed, is a celebration of Bien's mom.  The voice of a woman reading out a letter to him is heard towards the end of the track. The woman uses the name Alusa to address him. In recent past, Bien revealed that it was his Mom who inspired the title of this album.
With his fine display of artistic prowess and technical clarity in Alusa Why Are You Topless?,  Bien has further fueled the perception that he is the best artist among the Sauti Sol quartet. With this album, a bar is now set for the others to reach. Kenyan, African and global Sauti Sol fans await to see what's in store from the other three.
---
Frank Njugi is a Kenyan Writer, Page Poet, Culture Journalist and Critic. He has written for platforms such as Debunk Media, The Standard Kenya Newspaper, Sinema Focus, Afrocritik, The Cauldron,The Moveee, Africa in Dialogue, Brittle Paper, Salamander Ink Magazine and others. He tweets as @franknjugi